Trading as 'Rotadale Ltd' in London, Pietro moved to real biking territory, West Chiltington, in 1997 and has emphasised the whole family's love of bikes using 'Motori Di Marino' as his trade mark. His bloodline is racing, tuning, managing teams and dealing in Italian motorcycles. So, with a little over 40 years in the business there are not many things to do with bikes he has not seen or dealt with first-hand.
The Garage, on the crossroads at West Chiltington Common, is a prime spot for rolling back the years and it is not difficult to imagine your classic has only just arrived at the Garage from which it was originally purchased when new. Look a little closer and you'll find things are right up to date with electronic engine tuning equipment, a sprinkling of the very latest bikes in amongst the eye-boggling collection of classics for sale and a coffee machine for the weary traveller.
Every biking enthusiast must pay regular visits to the Garage to catch up on the latest news and see what their heart yearns for – a real Italian Classic. Even those that have their first dream classic bike keep coming back to see if there is another one to buy and cherish. The location is perfect as a destination or via-point on biking outings with the surrounding road conditions satisfying every type of biker.
Pietro is a traditional dealer – you know what you want, you know what you are prepared to spend. Pietro is proud of his reputation so you will find great classics to choose from.  He has been known to take part exchange and buy bikes so be prepared and always bring the bike to the showroom. PS: There is no finance available!
Once you have purchased your classic you'll want to keep riding it for many years to come.
Pietro is always on the lookout for bikes, so, if you don't see what you are looking for in the showroom now let him know the details of your classic and he might be interested.
Pietro is not a 'Parts' dealer. Occasionally used parts are available as shown here.
Check out the map and plan your next visit to the garage now. Phone us first to check Pietro is available if you want anything more than to look when you visit.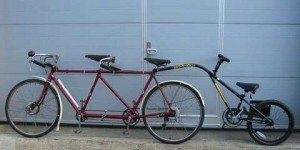 The company green policy is coming along – early trials show great promise and all the staff are showing total commitment.
The Mark I model is the result of many hours brainstorming issues and thinking out-of-the-box to come up a truly green vehicle suitable for use and considerate of each team member's strengths and weaknesses.
The pilot test was carried out in controlled conditions and a review held afterwards…
It was concluded that whilst it met the green objective it failed the diversity criteria.
Further work needed – back to the drawing board!